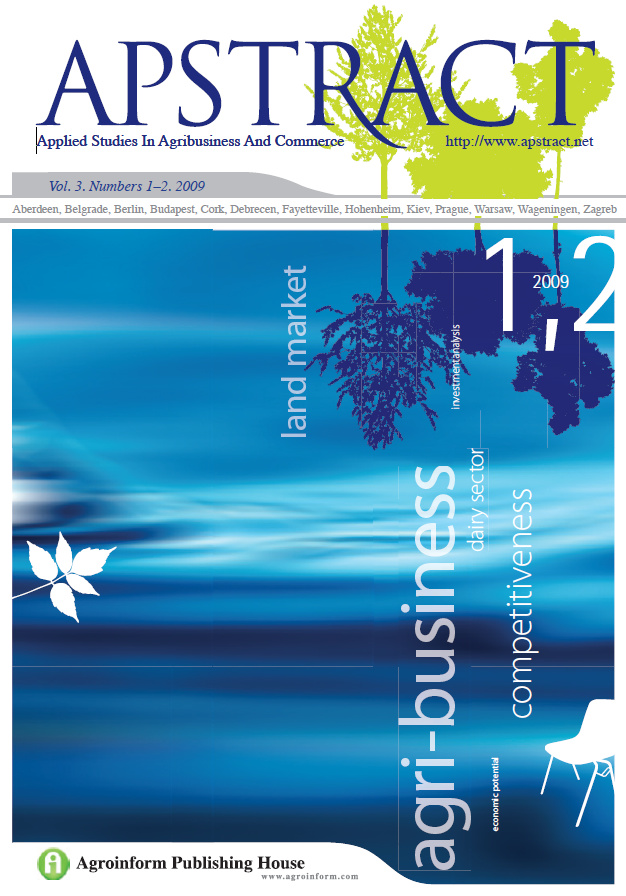 In front of you lie nrs 3 and 4 of the 2nd volume of our
recently established journal APSTRACT. It appears that
there is a great need for a journal like ours. The reasons for
that are the way the journal is connected to the field of
research and the professional network that carries it.
Many researchers feel that the longer established
scientific journals pay little attention to applied research in
the field of agribusiness. Further, at present, the Network for
the MBA in Agribusiness and Commerce (AGRIMBA) is a
well established institution that connects numerous scientists
in the field looking for an outlet of their research results.
Often they are also engaged in lecturing in one of the MBA
programmes. This makes APSTRACT an excellent medium to
communicate recent research results to MBA students. Also
the students themselves are invited to publish short versions
of their theses. This is a stimulus for them to perform as good
as possible and it provides good examples of subjects of
theses for students who still have to write one.
The AGRIMBA network is growing and so does the
number of readers of APSTRACT. That also shows in our
Editorial Board. In order to improve the efficiency of the
work we decided to split the Editorial Board into three parts:
Deputy Editors, Executive Editorial Board and Honorary
Editorial Board. Especially the excellent work of the Deputy
Editors, András Nábrádi and János Lazányi, is gratefully
acknowledged here. Further, I am happy to welcome a
number of new members in our Honorary Editorial Board:
Csaba Csaki (Budapest), Akimi Fujimoto (Tokyo), Peter
Bielik (Nitra) and Danilo Tomic (Novi Sad), all four well
known scientists in the field that we are covering.
Finally, I am confident that because of the quality of the
articles, the excellent members of our Editorial Board, and
its growing role as a medium of communication for the
professional network, APSTRACT has a great future.
##issue.tableOfContents##