Vol. 11 No. 3-4 (2017)
Published
December 31, 2017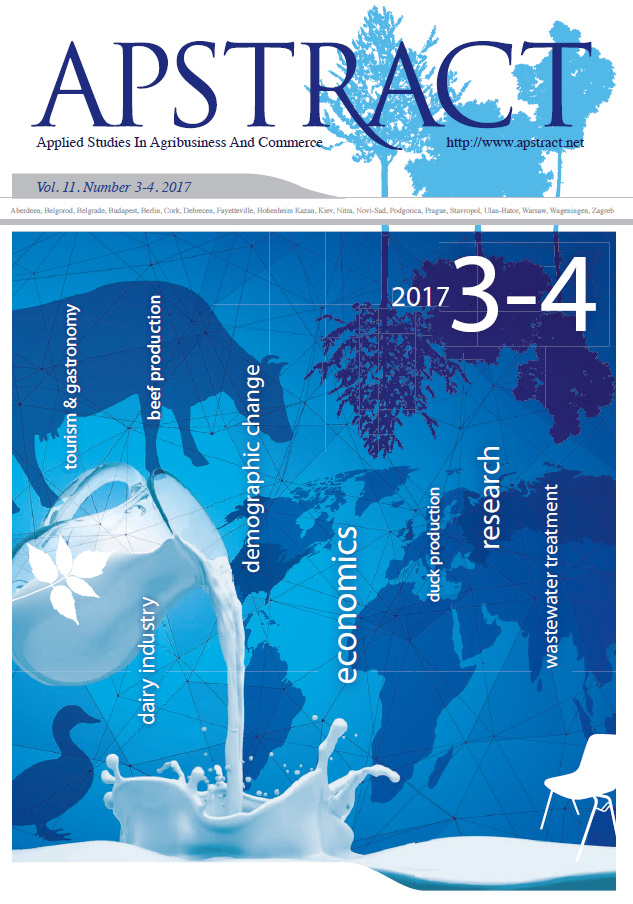 From 19-24 June 2017 the biyearly AGRIMBA-AVA tool place in Debrecen,
Hungary. The conference was well-organised by our colleagues from the Faculty
of Economics and Business from the University of Debrecen.
The program covered a wide variety of topics, some very topical, as is demonstrated
in the selection of papers that is presented in this special issue of APSTRACT.
Among the very topical paper we find a paper in American trade policy with
the catchy title Agricultural policy : America first? , and another on the allocation
of structural funds before and after the Brexit, an exercise in the economics of
cake sharing. At a more local topical level this issue contains papers in the role of
social media in gastronomy industry , reasons for and obstacles to cycling, palinka
recognition within tourism and gastronomy.
The are several papers on topical lifestyle issues as on the role of demographic and
lifestyle attributes with respect to food supplements, another one on bread consumption
in a gluten free diet and a third one everyday physical education.
Related to lifestyles, are two papers on consumer behaviour of food consumption
. One paper discusses global consumption of pork meat and a second paper is on the
effect of protected geographical indication recognition and the willingness to pay ,
the case of the Grojec apple.
Hungarian agricultural sector. Attention in one pare is paid to the economics of
duck production, in another on the technical efficiency of dairy and beef production,
in a third paper on corporate on strategies in the dairy industry.
Three papers discuss other aspects of Hungarian economic life. One paper is a
methodological approach in determining rental values of land, a second one is the
application of advanced ICT in small and medium sized enterprises in the agro food
sector, and a third one relates to the enhancements of Hungarian relations in Southeast
Asia, Vietnam in particular.
Human resources is the topic of three papers. One paper is on the nature-nurture
issues in entrepreneurship, another one analysis the challenge of demographic change
in the agricultural economy and a third paper is on the recruitment of graduates in
Siberian agricultural enterprises.
Sustainability comes to the fore in papers. One paper is on the construction of a
composite sustainability indicator and regional development applied to the Stavropol
region in Russia, a second paper is on energy alternatives in large-scale waste water
management, a third paper discusses the effect of climate change on ski tourism. A
fourth paper concerns the differences of primary energy consumption across countries.
The next AVA-AGRIMBA conference will be organised in Ulaanbaatar in
Mongolia in June 2019.
##issue.tableOfContents##