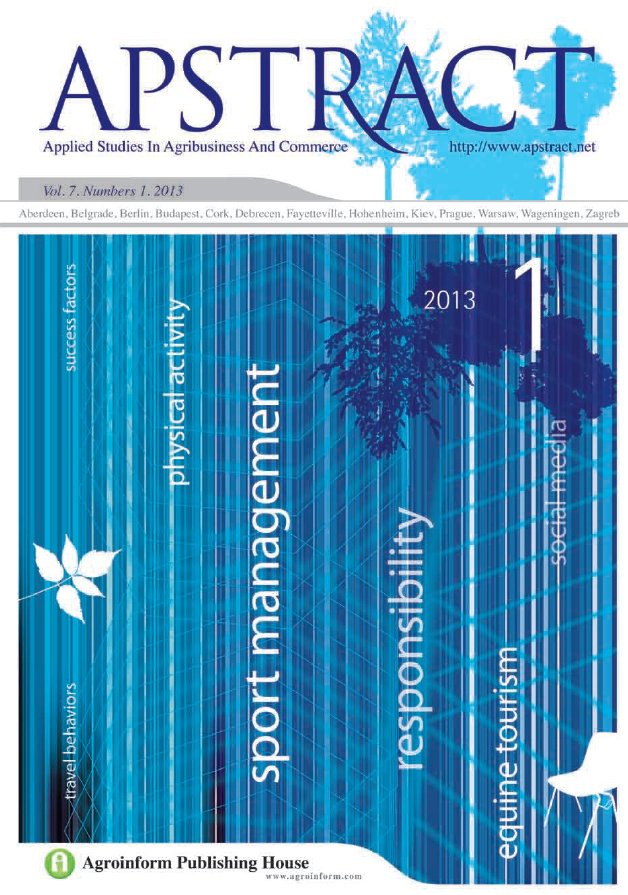 Articles
The present of equine tourism in Hungary in reflection to an empirical research
Authors
View
Keywords
How To Cite
Béki, P. ., Vágó, . T. ., & Lasztovicza, D. (2013). The present of equine tourism in Hungary in reflection to an empirical research.
Applied Studies in Agribusiness and Commerce
,
7
(1), 19-23.
https://doi.org/10.19041/APSTRACT/2013/1/3
Abstract
In the last years the necessity of developing equine tourism in Hungary has been called for by experts. Moreover, the government has spent a significant amount on constructing equestrian facilities all around the country, and has published equestrian brochures in order to attract foreign guests. On the contrary, little attention is paid to equestrian life inside Hungary, though it would be essential to create a Hungarian equestrian audience, so that more and more horse riders could regularly exercise different riding activities.
A more economical operation of equestrian facilities is vital in order to achieve a busier domestic equestrian life, since it is currently self-supporting: it is covered exclusively by the incomes of horse riding. A reinforced financial support of the sector, however, would provide countless additional advantages for the economy. Moreover, enriched riding opportunities drive people back to nature, promote environmental awareness, and provide regular horse riding opportunities for a high number of riders. The present study aims at introducing an empirical survey research in the framework of which participants of Hungarian equestrian life and their features of touristic demand were investigated.
The results of the research show that Hungarians riding on a regular basis are mostly attracted by affordable European riding holidays and riding study visits.