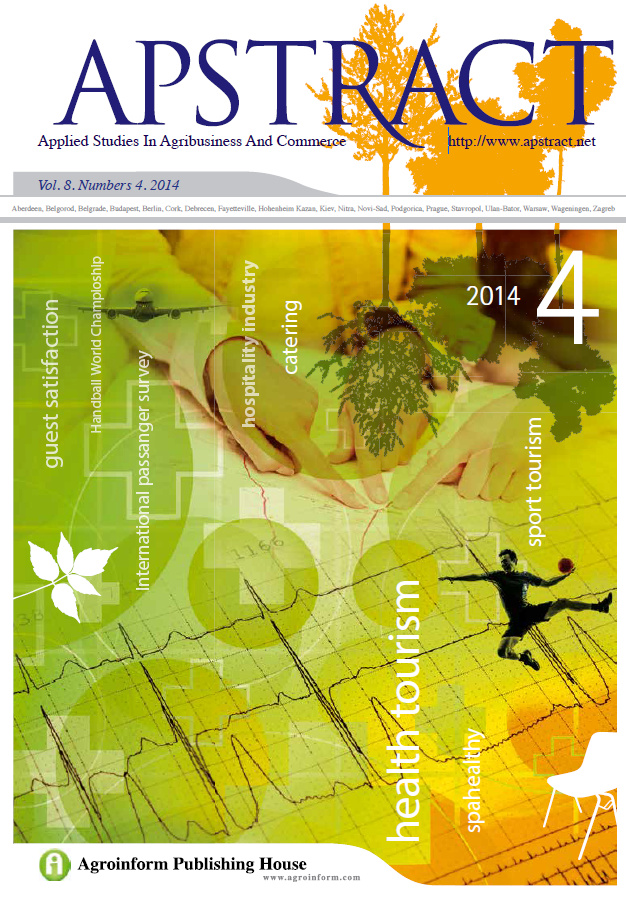 Articles
Economical aspects of thermal and medical tourism
Authors
View
Keywords
How To Cite
Fenyves, V. ., Dékán Tamásné Orbán , I., Könyves, E. ., Nagy , A., & Sándor , F. . (2014). Economical aspects of thermal and medical tourism.
Applied Studies in Agribusiness and Commerce
,
8
(4), 77-84.
https://doi.org/10.19041/APSTRACT/2014/4/12
Abstract
Thermal and medical tourism in Hungary are characterised by a continuous development. The management, efficiency, operational effectiveness and offer of enterprises in the field of tourism influence the competitiveness of Hungary's tourism. In the present day economic life the thorough analysis of the enterprises' economy is indispensable. The result of the analytical methods applied by the report provide information for different stakeholders (owners, transporters, customers, employees, habilitators). The aim is to have data which inform us about the functioning, financial situation and profitability of the economic entities parallel with the factors and conditions determining these elements. In our paper we present the financial situation of the Demjén Thermal Spa Ltd., being one of the newest thermal spas of Hungary.