Articles
Effects of some herbicides on the microbiological characteristics of soil nitrogen cycle under maize plantation
Published
December 21, 2008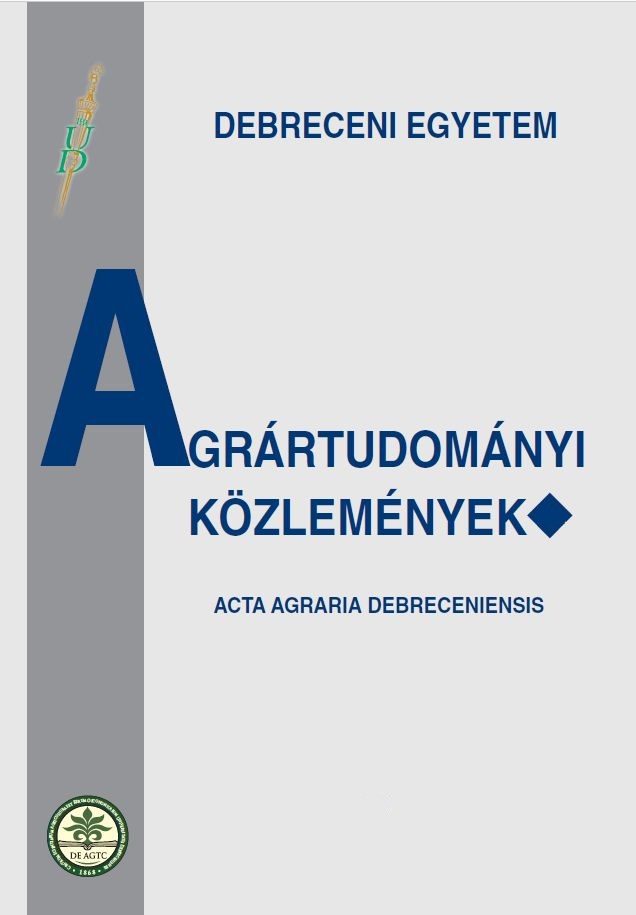 APA
Sándor, Z., & Tállai, M. (2008). Effects of some herbicides on the microbiological characteristics of soil nitrogen cycle under maize plantation. Acta Agraria Debreceniensis, (32), 93–100. https://doi.org/10.34101/actaagrar/32/3023
Nitrogen is a key element for the living organisms and influence not only for the quantity but for the quality of the yield, considerable. Availability of nitrogen from the soil is influenced by several microbiological processes of the Nitrogen-cycle. Among the intensive agricultural production the herbicide application cannot be omitted more information needs therefore about the inhibitor effect of herbicides on the different microorganisms.
An experiment was set up on calcareous chernozem soil under maize culture. Effect of four different herbicides (Acenit, Frontier, Merlin, and Wing) was investigated. The effect of herbicides was measured to four microbiological parameters of the Nitrogencycle (abundance of nitrifying bacteria, nitrate solubilisation, biomass nitrogen and urease enzyme activity). There were singledouble-  and five times of recommended doses of herbicides applied for two onsecutive vegetation periods.
From the results of the different doses of herbicides, the following can be stated:
– The Acenit has a stimulating effect on nitrifying bacteria in general. The Frontier and Merlin also influenced the quantity of nitrifyers, however in certain cases decreased in another cases increased the number of bacteria.
– The double doses and five times doses of herbicides was found to be increasing the nitrate content of soil, -especially in 2006.
– The quantity of microbial biomass nitrogen increased in the 60% of treatments and decreased in the 40% of the treatments.
– Except of the result of Wing in 2006 and Merlin in 2005, the effect of simple dose herbicides was the smallest on the urease enzyme activity. According to the results the effect of Merlin was positive; the effect of Wing was negative on the soil enzyme's activity.
Regarding the application of four different herbicides in three  different doses on the microbiological parameters of soil (at two consecutive years-) in 39% of the treatments has resulted a significant inhibitory effect, 28% of the treatments, however have significant stimulating effect on the parameters measured. More than 50% of the inhibitory effect was measured in case of the Wing, at more than 50% of the Frontier the microbiological parameters have not changed.
Downloads
Download data is not yet available.