Articles
The possibility of use of the 0,01 M CaCl2 and Baker- Amacher extractants for the determination of plantavailable potassium
Published
November 2, 2009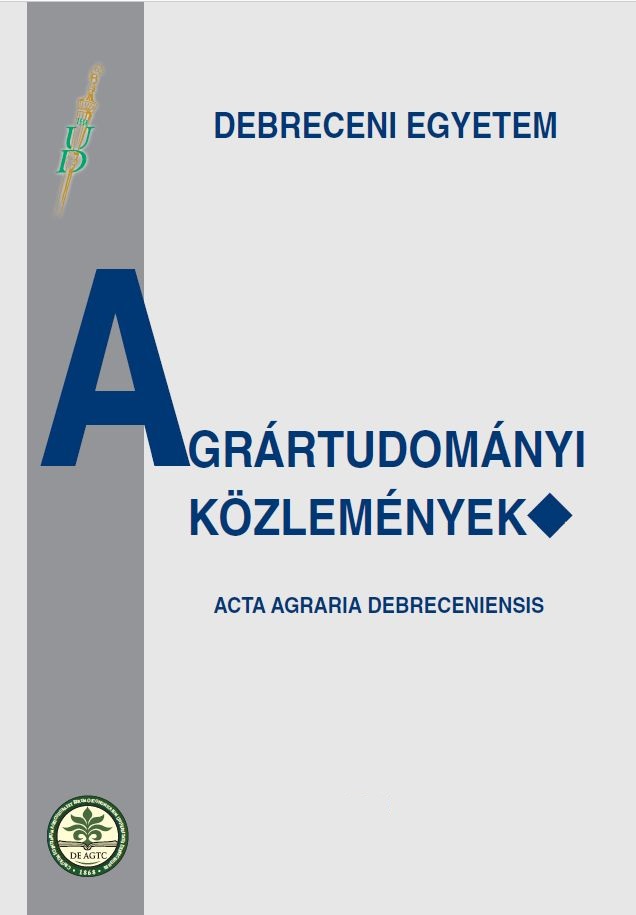 APA
Bertáné Szabó, E., Berényi, S., & Loch, J. (2009). The possibility of use of the 0,01 M CaCl2 and Baker- Amacher extractants for the determination of plantavailable potassium. Acta Agraria Debreceniensis, (36), 7–15. https://doi.org/10.34101/actaagrar/36/2787
The Hungarian fertilizing recommendation systems use AL soil test for the evaluation of potassium supply. The 0.01 M CaCl2 is a definitely milder extractant, it extracts the easily soluble and exchangeable potassium amount. Its European introduction was already taken into consideration in 1994. The research project on this topic is started in several european countries, also in Hungary at the Department of Agricultural Chemisty of Agricultural University of Debrecen. Another advantage this multielement method is that the different element-ratios can also be calculated.
The Baker-Amacher extractant's principle is that it contains a known amount of K, P, Mg in the CaCl2 solution. During the soil extraction adsorption and desorption process take place, so the adsorption or desorption can be calculated from the original and the final concentrations.
In this paper we introduce the results of comparing analysis of the samples (n=630) from Soil Information and Monitoring System. Our aim was to measure the use of new extractants beside conventional extractant (AL) for the evaluation of K-supply would be reasonable.
It can be stated that there is a medium close relationship (r=0.75) between AL-K and 0.01 M CaCl2-K. My calculations confirmed the results of  former examinations, and proved that the two extractants don't extract and change the same rate of K-fractions. We found that regression  between 0.01 M CaCl2 and AL depend on texture classes, pH classes, amount of lime, and organic matter content of soils.
Comparing the relations between AL and Baker-Amacher we find relatively loose correlation (r=0.45). We stated that there are K-fixing soils among soils considered to be well supplied with potassium by AL. This might be caused by the high amount of mineral clay and the quality of mineral clay. We stated that the dK averages show that the Hungarian nutrient-supply categories characterize generally well K-supplement of soil.
It can be stated that it would be necessary to use new extractants to specify evaluation of plant available K. We found that the 0.01 M CaCl2 and Baker-Amacher extractants could complete usefully the AL procedure and could help effective potassium fertilization.
Downloads
Download data is not yet available.