Articles
Examination the effects of different herbicides on the soil microorganisms of a calcareous chernozem
Published
November 3, 2010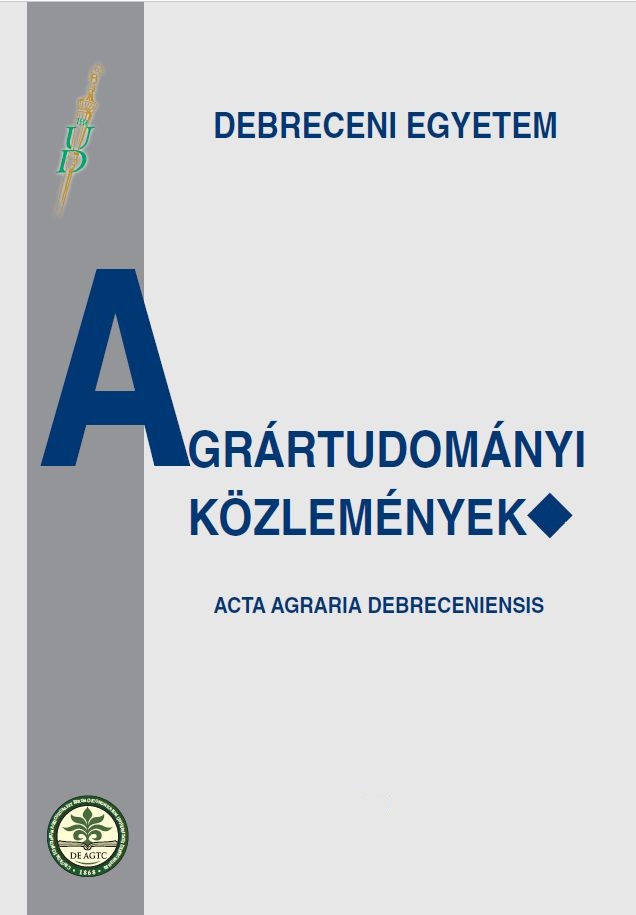 APA
Sándor, Z. (2010). Examination the effects of different herbicides on the soil microorganisms of a calcareous chernozem. Acta Agraria Debreceniensis, (38), 121–126. https://doi.org/10.34101/actaagrar/38/2771
Pesticides play a key role in fighting weeds, pests and parasitic fungi. According to surveys, pests reduce the yield of agricultural crops by 35% worldwide. Pests, fungi and weeds account for 14%, 12% and 9% yield loss, respectively (Gáborjányi et al., 1995). Chemicals have contributed to increasing and maintaining the yields of crop production for decades. Today, agricultural production (in spite of many efforts) is unthinkable without the use of pesticides (herbicides, insecticides and fungicides). On the other hand, these chemicals contribute to the pollution of the atmosphere, surface and underground waters, and agricultural soils, especially if they are applied improperly.
The sustainable agricultural production pays attention to environment-friendly cultivation-technologies; but at the same time it makes an effort to produce good quality and economical products. The examination of the herbicides' secondary effects, fits into this chain of idas namely, how the herbicides affect – stimulating or inhibiting – the soil microbiological processes, prevention of soil fertility.
In the course of the experimental work the effect of herbicides on soil biological properties were examined in different maize (Zea mays) cultures. We wanted wished to know that how the herbicides affect the quantity change of soil microorganisms, the life of different physiological groups of bacteria and the activity of microorganisms. A small pot experiment was set up in 2008 with the application of two herbicides - Acenit A 880 EC and Merlin 480 SC – in the breeding house of the Department. The moisture content and nutrient supply were at optimal level in the experiment.
On the basis of results the following can be stated: 
1. It can be stated that the two herbicides and all their doses affected negatively the number of total soil bacteria, the
inhibiting effects were significant. The quantity of microscopical fungi increased by the effect of Merlin 480 SC and decreased in the treatments of Acenit A 880 EC.
2. The Acenit A 880 EC had stimulating effect on the nitrate mobilization. The CO2-production was stimulated by the basic doses of herbicides; the other treatments did not influence the CO2-production significantly.
3. The quantity of microbial biomass-carbon –except for only one treatment- decreased significantly by the effect of herbicides. Besides it, the quantity of microbial biomass-nitrogen increased significantly in the treatments of Acenit A 880 EC.
4. The biomass of test plant decreased in the treatments of herbicides, their quantities were smaller than in the control. In the pots treated by Merlin 480 SC, parallel with the increase of doses decreased the quantity of plant-biomass.
Downloads
Download data is not yet available.