Articles
Impact of ammonium nitrate and Microbion UNC bacterial fertilizer on dry matter accumulation of ryegrass (Lolium perenne L.)
Published
November 3, 2010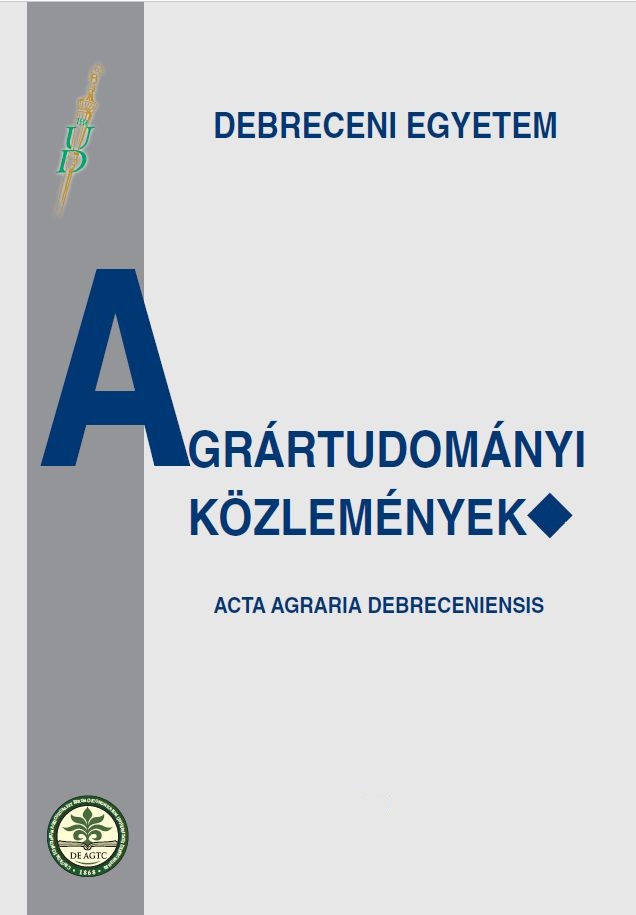 APA
Balla Kovács, A., & Jakab, A. (2010). Impact of ammonium nitrate and Microbion UNC bacterial fertilizer on dry matter accumulation of ryegrass (Lolium perenne L.). Acta Agraria Debreceniensis, (38), 35–39. https://doi.org/10.34101/actaagrar/38/2757
Pot experiment was performed to investigate the effects of increasing NH4NO3 doses with or without Microbion UNC bacterial fertilizer
application on dry matter production of ryegrass (Lolium perenne L.). Experiment was set up on calcareous chernozem soil of Debrecen-Látókép and on humus sandy soil of Őrbottyán. The bi-factorial trials were arranged in a randomized complete block design with four replications. Grass was cut three times. Dry matter production was determined and the sum of biomass of cuts was calculated as cumulated dry weights. Analysis of variance was carried out on the data in order to provide a statistical comparison between the treatment means. The least significant difference (LSD5%) test was used to detect differences between means. On the basis of our results it can be concluded, that the dry weights of ryegrass cultivated on chernozem soil were higher than on sandy soil. With increasing nitrogen supply the dry matter production of grass significantly increased in both types of soils. In case of sandy soil the increasing effect was more expressed, but dry weights of this soil never reached the appropriate values of chernozem soil. Application of Microbion UNC had positive effect on dry matter production of ryegrass grown on both two types of soils but the effect was more expressed on chernozem soil. Finally it can be concluded that the increasing effect of NH4NO3 on biomass weights was more expressed in both types of soils, the biofertilizer application also increased the dry weights of plant in a small degree. 
Downloads
Download data is not yet available.