Articles
Development of maize production technology that increase the efficiency of bioethanol production
Published
November 2, 2009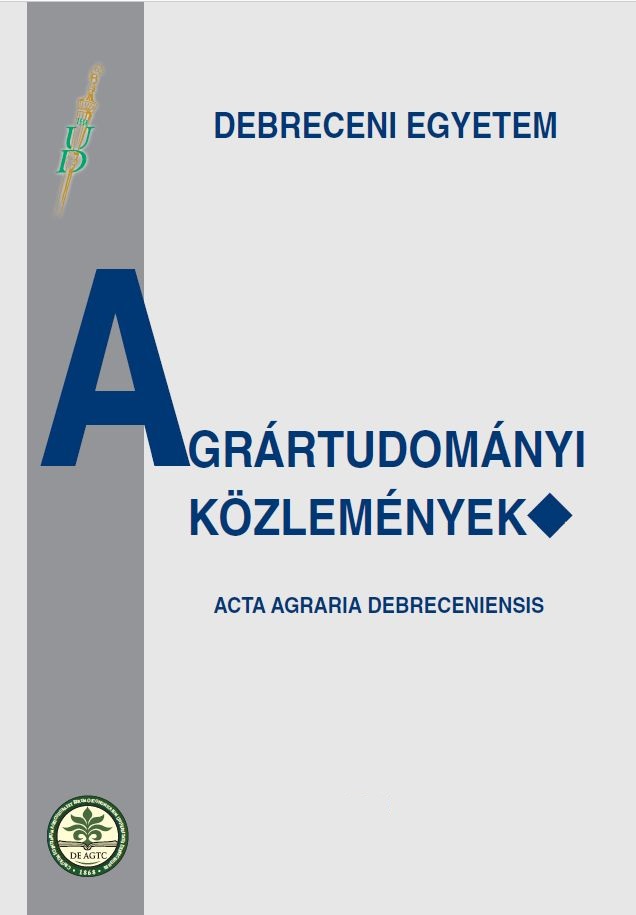 APA
Boros, B., & Sárvári, M. (2009). Development of maize production technology that increase the efficiency of bioethanol production. Acta Agraria Debreceniensis, (36), 17–26. https://doi.org/10.34101/actaagrar/36/2788
Maize is one of the most important crops worldwide and also in Hungary, it can be utilized for multiple purposes: as a feedingstuff, for human nutrition and for industrial processing. In the last decades, the per ha yield of maize varied greatly in Hungary, between 2004 and 2006, it was 6.82-7.56 t/ha, while in 2007, it was only 3.6 t/ha. Resulting from this, the price of maize became 2-2.5 times higher. The high price hinders bioethanol production. The largest per ton amount of bioethanol, 387 l, can be produced from maize.
In addition to its classical utilization as feed and food, the industrial use (especially for bioethanol production) of maize is increasin.
For industrial production, a new production technology is needed. I tested and selected hybrids appropriate for this purpose and set up fertilization and plant density experiments. The experiment were set up on chernozem soil in 2007.
The applied fertilization treatment was N 120, P2O5 80 uniformly, and five different dosages of potassium: K2O 0, K2O 100 (KCl), K2O 100 (Kornkáli), K2O 200 (KCl), K2O 200 (Kornkáli) kg/ha active ingredient. The applied plant densities were 40, 50, 60, 70, 80, 90 thousand plants/ha.
The yield of maize hybrids in the fertilization experiment ranged between 10.53 – 14.62 t/ha. Both regarding the form and dosage, 100 kg/ha Kornkáli proved to be the best potassium treatment. Regarding the inner content parameters, the highest starch content in the average of treatments was obtained for the hybrid PR36K67: 73.57%, and its yield was also the highest, so this hybrid proved to be the most suitable for bioethanol production. The highest protein content was observed for the hybrids KWS 353 (12.13%), which can be favourable for feeding purposes.
Most of the hybrids gave the highest yield at 80 thousand plants/ha plant density, however, hybrids PR36K67 and Mv Tarján achieved the highest yield at 90 thousand plants/ha.
In bioethanol production, the selection of a high-yielding hybrid with high starch content, a slight reduction of N, increase of potassium, the application of the highest plant densities of the optimum interval, harvest at full maturity (when starch content is the highest compared to protein content) are of great importance. 
Downloads
Download data is not yet available.