Articles
The effect of and interaction between the biological bases and the agrotechnical factors on maize yield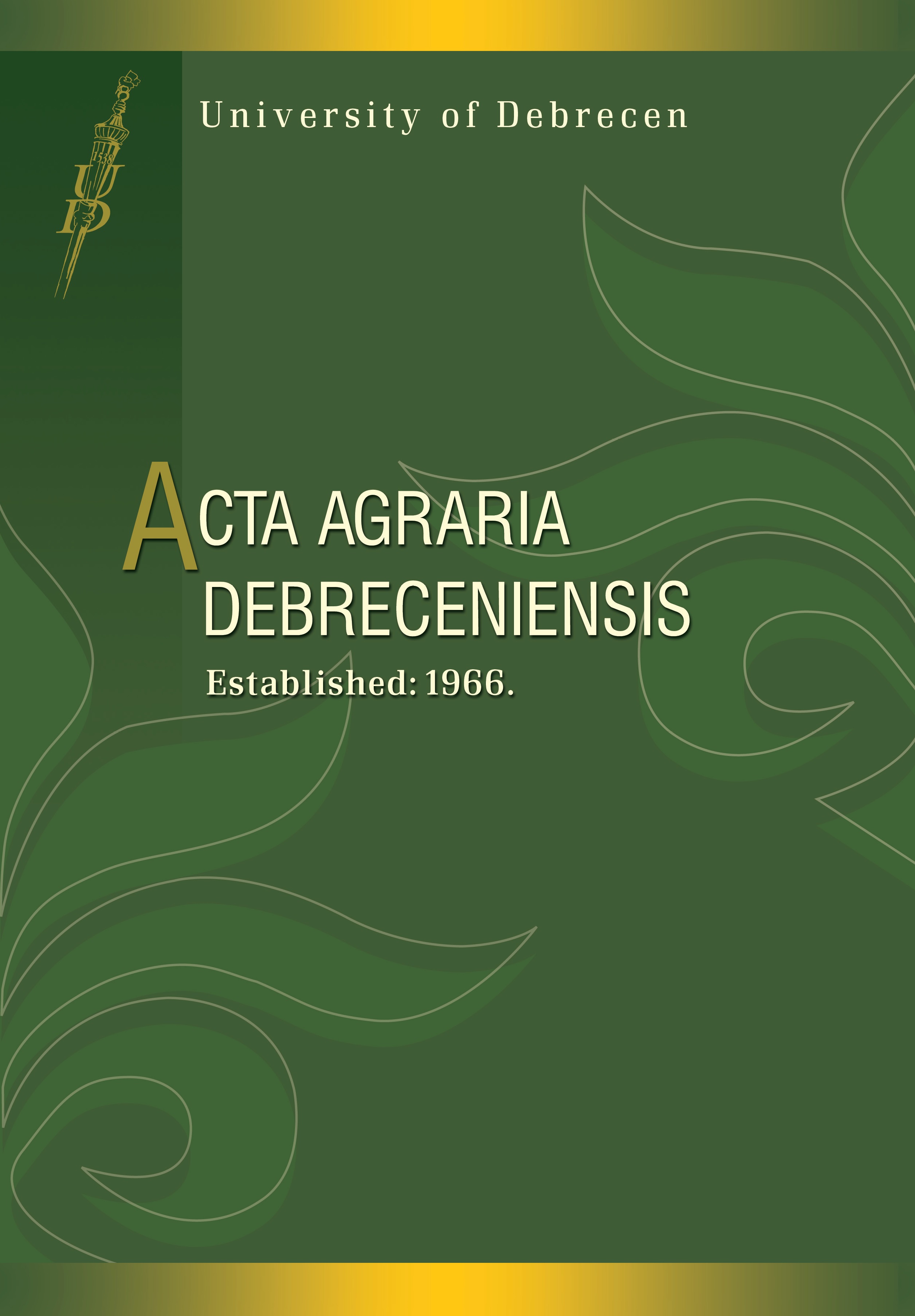 APA
Kovács, P. (2018). The effect of and interaction between the biological bases and the agrotechnical factors on maize yield. Acta Agraria Debreceniensis, (74), 83–87. https://doi.org/10.34101/actaagrar/74/1669
-1 yield increase. In 2017, the number of plants had a slighter effect. With N160+PK treatment, in most cases no significant difference can be observed. The value of LSD5%: plant number: 0.20 t ha-1, hybrid: 0.28 t ha-1, interaction: 0.48 t ha-1. With N160+PK treatment, the hybrids produced yields between 10.07 and 12.45 t ha-1. When examining the three years in the average of the number of plants, with treatment without fertilisation, the average yield of hybrids reached 7.53 t ha-1. With N80+PK treatment, this value was 9.71 t ha-1 and with doubling the fertilizer dosage, this value increased to 10.42 t ha-1. No economic profit was gained as a result of applying double dosage of fertilizer; therefore, the N80+PK dosage can be considered ideal.
The effect of and interaction between the biological bases and the agrotechnical factors on maize yield In our research, we examined the effect of the hybrid, the nutrient supply, the number of plants and the abiotic factors (temperature, amount of precipitation) on the yield, crop quality and yield stability of maize. We devoted special attention to the natural nutrient utilization ability and fertilizer reaction of maize. The experiment took place in Hajdúszoboszló on chernozem soil, on a nearly 8 ha field. The size of one plot was 206 m2; therefore, this experiment was half-industrial. We tested six hybrids with different genetic characteristics and growing seasons. We analysed the correlation between the nutrient supply and the yield of maize hybrids with a control treatment (treatment without fertilization) and with N 80, P2O5 60, K2O 70 kg ha-1 and N 160, P2O5 120, K2O 140 kg ha-1 fertilizer treatments. The yield increasing effect of the fertilizer also depended on the number of plants per hectare to a great extent. The number of plants of the six tested hybrids was 60, 70, and 80 thousand plants ha-1. In 2015, the highest yield was produced by hybrid P9241 with N80+PK and 70 thousand plants per hectare. With the N160+PK fertilizer dosage, the same hybrid responded the best, followed by hybrids P9486 and DKC4717. Using the same fertilizer treatment, the 80 thousand plants per hectare population density resulted in decrease in the yield with most of the examined hybrids. In 2016, with the increase in the number of plants per hectare, even with non-fertilised treatment (control treatment), the yield could be increased in the case of each hybrid. Averaged over the different hybrids and fertilizer treatments, applying 80 thousand plants ha-1 instead of 60 thousand resulted in 1.0 ha
Downloads
Download data is not yet available.