Articles
The examination of the agronomy, the amount of yield, and the yield stability of winter wheat varieties
Published
December 21, 2008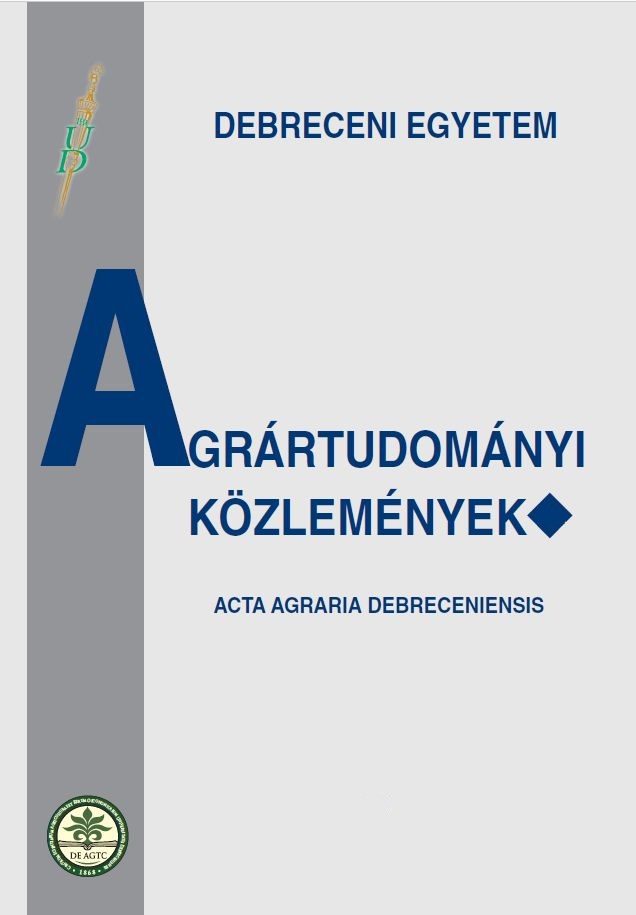 APA
Kátai, Z. (2008). The examination of the agronomy, the amount of yield, and the yield stability of winter wheat varieties. Acta Agraria Debreceniensis, (32), 61–72. https://doi.org/10.34101/actaagrar/32/3019
Our research was carried out at University of Debrecen Centre for Agricultural Sciences Faculty of Agriculture Institution of Plant Sciences Látókép Research Institute through the breeding year of 2003/2004, 2004/2005 and 2005/2006 using cherrnozem soil. In our research we tested 14 chosen autumn wheat varieties during the three crop years.
The different varieties showed very dissimilar ability of resistance against diseases through the three crop years. We could observe both susceptible and resistant varieties. Susceptible varieties got diseases even in favourable crop years. The observed winter wheat varieties showed higher susceptibility against helminthosporium (21.8%) and leaf rost (16.4%). Among the 14 varieties we experienced the least susceptibility in the case of 'Gaspard' and 'GK Kalász'. The research showed that the disease of fusarium undoubtedly depends on the features of the crop year.
In terms of stem solidity we experienced big differences. Among all the observed winter wheat varieties the mid-late ripening 'Gaspard' showed the best results in the average of the three years, only 5.3% was beaten down.
The three ripening group of the winter wheat showed the following average yield in the average of three years: 7065 kg/hectare (early ripening varieties), 7261 kg/hectare (late ripening varieties), 6793 kg/hectare (mid-late ripening varieties). Among all the observed varieties the early ripening 'Flori 2' produced the biggest yield (7692 kg/hectare).
During the three crop years we reached very different amounts of yield which means that weather conditions had a telling affect on yield. In 2004 we reached an excellent average yield in all the tree  breeding groups because of the favourable weather conditions. In 2005 we had a moderate amount of yield because of the unfavourable weather conditions of winter. The year of 2006 showed the smallest amount of yield which is due to the fact that the plant grew less thick than usually.
There were significant differences among the observed varieties in the term of yield, which can be attributed to dissimilar biological basics.
One of he most important questions is the yield stability of the varieties. We had extremely different results at this field. Speaking in general terms we can state that both weather conditions and genetical abilities have a determining effect on yield. In the case of winter wheat varieties the rate of yield fluctuation was quite big, moving in the interval of 33.7-70.3%. Among all the observed varieties 'Gaspard' showed the best yield stability (33.3%). 
Downloads
Download data is not yet available.